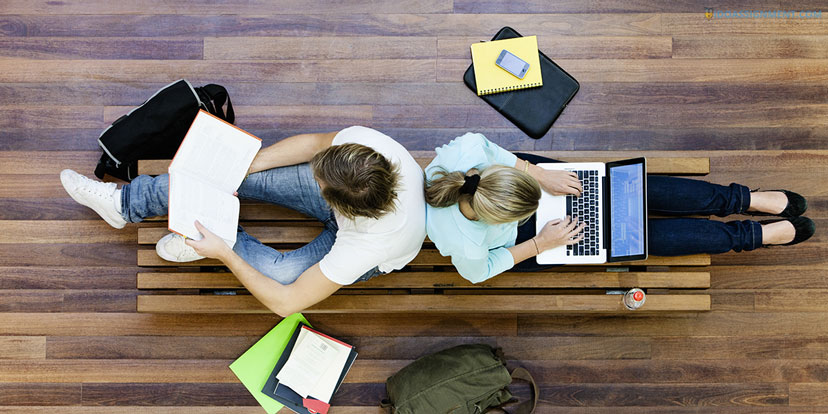 My personal experience shows that it's much easier to write a review of a movie or book when I can literally feel it and when it is not just my assignment . I mean when I can perfectly understand what's happening, why it's happening, and what the heroes are going through, because some time ago I faced the same or pretty similar joys or sorrows as the characters of the movie or book I choose.
That's why, together with a few other eager movie maniacs from our team that does your homework for you, I have come up with this selection of movies for and about students.
It's certainly much more interesting and pleasant to write about something you know and feel better than anyone else in this world. Well, who can understand a student better than another student? So, my creative colleagues and I hope you'll like the small collection we have here for you and find a great movie to review for a tomorrow's class.
In you haven't watched any or all of these pictures, we recommend opting for their official trailers first. A two or three-minute story, containing the most significant twists of the plot and the weightiest dialogues, is exactly what you need to catch the most powerful impression, which will be enough to write a 500-word review. Plus, you can surely use the sketches below.
So, invoke your inspiration, and good luck with your writing!
Stand and Deliver, 1988
You don't need to be super good at mathematics to see that this movie is 30 years old, but this fact shouldn't make you skip this paragraph. Just watch it to realize that, sadly, few things in the education system have changed so far. But there are enthusiasts who keep making these changes despite irrational regulations and absurd convictions.
The movie tells a real story of a Bolivian educator who taught mathematics at Garfield High School, East L.A., CA. His name was Jaime Escalante. To be more precise, he taught AP Calculus. And here you'll find what it is if you're interested.
Escalante faces quite a formidable challenge. His students are all born to working-class Hispanic families going through social problems. In terms of academic skills, these youngsters are far below the normal grade level. So, Escalante's colleagues don't even believe he can teach them so well that they will pass the AP Calculus exams successfully. But he keeps standing his ground and wisely motivates his class to study better and with more pleasure.
It turns out that the faculty underestimate both the educator's teaching streak and his students' potential. Although his class is accused of cheating after the first exam, Escalante defends them and obtains a permission for the retake. Successful results speak for themselves.
Dead Poets Society, 1989
This fictional story goes back to 1959, but again, it touches on issues that you'll find not just really topical but also very familiar to you personally, to a student of the third millennium. 
At least once in all these years of studying at high school and college or university you must have asked yourself this hurting question: should I live my life as others expect and even plan me to live it, or can I just ignore their rules and enjoy the moment?
John Keating, an English teacher at the fictional all-male Vermont boarding school Welton Academy, tries to prove his young students that the second option must be your answer. Yes, you can (and must) study engineering, medicine, law, whatever you believe can help you successfully join the ranks of the "right" young people and be able to make your living. But you should never forget about things that add meaning to this living.
He influences and inspires his students, so they restart the club Dead Poets Society, where they read poetry, including their own works, and play music. The boys discover other facets of life and change.
However, neither their parents nor the headmaster approve the changes in them. The unacceptance and pressure appear to be more powerful than the boys' personal convictions and aspirations. One of them even commits suicide. All that results in Keating's dismissal.
But still, when he enters the class of his students to take his belongings, they hotly admit they were forced to sign the letter in which they had to agree with the school's decision to fire Keating. The boys stand on desks and salute their ex-teacher.
He departs touched, leaving the knowledge of the greatest science in their hearts – the science of true love.
3 Idiots, 2009
If you are one of those picky people to whom Hollywood movies seem quite commonplace, you deserve my personal respect and a pinch of flavorful cinematography spices from India. The movie we are going to review here balances perfectly between good humor, touching drama, and healthy satire.
This is a story about the lives of three college friends. Two of them, Farhan and Raju, tell it in a reverse chronological order, while searching for Rancho, their inspirer but an incredible weirdo. But what makes Raju cancel his flight and Farhan leave his young wife early in the morning? It's a bet with Chatur, their fellow student who always wanted to surpass Rancho. The four agree to meet in ten years after the graduation to check who becomes more successful in life.
Ironically, in these ten years Rancho becomes a great inventor with whom Chatur desires to sign a very important contract. However, he discovers it only after he finds Rancho together with Farhan and Raju.
The film touches on two thorny issues: Asian social life and education. But 3 Idiots would become the highest-grossing Bollywood movie ever if it didn't rub salt into global wounds.
The three friends study engineering but only Rancho can boast of surprising academic success, though he never does that. He gets high grades, helps his mates, and becomes a prominent scientist because he really likes what he studies, and that is despite the fact that he is an orphan who enters the college under a fake name to get a degree for the son of the man he worked for when he was a teenager.
Rancho encourages Farhan not to give up and get a job despite low grades. He helps Raju believe that he can become a prominent photographer and not an engineer, as his parents planned for him. He persuades the daughter of the monstrous college's director not to marry the man to whom money means more than love. And he even tries to fix a gadget designed by one of this mates so he could meet the project's deadline, but that guy kills himself, broken by unbearable educational and social pressure.
Rancho is not ideal, but he is honest with himself. He knows that he must listen to his own heart in order to make his life meaningful and happy. And he does know how hard that is. Still, he never gives up.
That's what his friends learn from him. And that's what every student should learn too. 
Leave a comment: